Photo Gallery. Vladimir Sarukhanyan claims WBC CIS and CISBB Light Title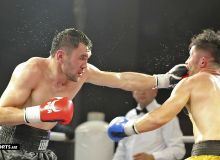 Hotel Khonobod hosted international professional boxing night on Saturday as twenty-two boxers squared off in eight weight classes.
In the main card, Armenian Vladimir Sarukhanyan contested with Ruslan Berchuk of Russia for the vacant World Boxing Council CIS and Slovac Boxing Bureau (CISBB) Light Title.
Match Highlights