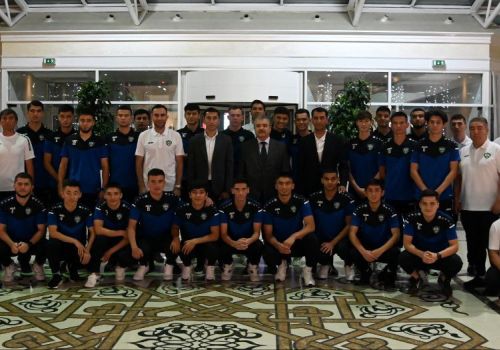 President of UFA Abdusalom Azizov met with U-23 national team of Uzbekistan
As you know, the Asian Cup among under-23 players starts tomorrow in Uzbekistan. The Olympic team of Uzbekistan will play in the group stage with the teams of Turkmenistan, Qatar and Iran.
Today, Ufa President Abdusalom Azizov met with members of the Uzbekistan U-23 national team before the first game with Turkmenistan. First, the head of our football expressed his opinion about the responsibility of this competition to our youth team.
First of all, he stressed that playing for the national team is a pride for every football player, that the team should be united, fight for the honor of the Motherland and adequately defend its image at international competitions. It was also stated that one of the main goals facing the team is a thorough and systematic preparation for the Olympics in Paris, where each player must combine professionalism, commitment and hard work. It was stated that Ufa will provide all the necessary conditions to achieve a positive result.
A number of the leading players of our team also expressed their opinion. After that, Abdusalom Azizov talked with the coaching staff about the current state of the team and the preparation process. The medical staff provided information about the health status, recovery and the process of fortification of the players. The President of Ufa instructed to continue the practice of providing the players with the most modern, high-quality medical care.
At the end of the meeting, Abdusalom Abdumavlonovich once again wished our team good luck on the eve of a responsible tournament.
Join to SPORTS.uz channel on Telegram