Ravshan Irmatov attends AFC MAs' & RAs' General Secretaries' Online Conference 2020 in the East Zone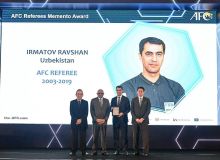 Following the highly successful kick-off series in the South and Central Zones last week, the Asian Football Confederation (AFC) Member Associations' & Regional Associations' General Secretaries' Online Conference 2020 made its way to the East Zone on Thursday.
Designed and dedicated to expanding the knowledge of general secretaries, the two-day conference continued to provide the essential tools, resources and widen the understanding of the AFC's programmes while strengthening the camaraderie within the senior leadership of the Asian football family.

Similar to the Conference held a week ago, AFC General Secretary Dato' Windsor John set the tone with a presentation on the AFC's Vision and Mission before the Confederation's recently restructured Competitions and Football Events Division takes centrestage.


The Uzbekistan Football Association and Football Federation Australia also enhanced the depth of the Conference with best practices presentations on international relations, football administration and match officials' development before an informative session on the potential of European and Asian Football by guest speaker Alex Phillips, the former UEFA Head of Asia - Europe Affairs.

The recently formed AFC Commercial Department and Safeguarding Unit again took the spotlight on the second day, providing participants with greater insights on the recent developments and progress.

The indispensability of long-term development and strategic planning also took sharp focus with special presentations from an experienced line-up of high-level speakers including Dr. Kevin Tallec Marston, Research Fellow & Academic Project Manager, CIES, Razvan Burleanu, President of the Romanian Football Federation and Kleinmann Wang CEO Anter Issac.
Found mistake? Select it and send us (Ctrl + Enter)