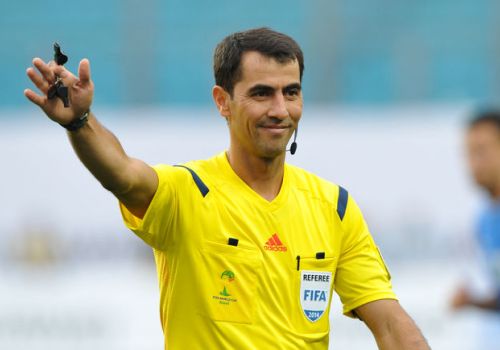 Ravshan Irmatov officiates Super League match ahead of the FIFA World Cup Russia 2018
Ravshan Irmatov, five-time AFC Referee of the Year, will officiate at the Uzbekistan Super League match between FC Neftchi and FC Sogdiana on May 25 before he will leave for the FIFA World Cup Russia 2018.
Sherzod Kasimov has been appointed as a referee for the Tashkent Derby between two Uzbek giants FC Pakhtakor and FC Bunyodkor at the Pakhtakor Stadium.
Uzbekistan Professional Football League has recently announced the match officials for the thirteenth matchday of Uzbekistan Super League.
Uzbekistan Super League | Matchday Thirteen
May 25 (Friday)
FC Neftchi vs FC Sogdiana
Referees: R. Ermatov, A.Rasulov, J.Saidov, R.Lutfullin.
FC Pakhtakor vs FC Bunyodkor
Referees: Sh.Kasimov, O.Abduvasilov, S.Shoyusupov, N.Kosimov.
May 26 (Saturday)
FC Navbahor vs FC AGMK
Referees: Z.Kadirov, O.Jumaev, R.Samandarov, T.Suyunov.
FC Kokand-1912 vs FC Kizilkum
Referees: A. Shukurullaev, R. Serazetdinov, A. Usmonov, R.Karimov.
FC Metallurg vs FC Lokomotiv
Referees: V. Tseytlin, R. Shoyakhmetov, A.Pulatov, K.Rasulov.
FC Bukhara vs FC Nasaf
Referees: V. Serazetdinov, R. Fozilov, M.Majidov, S.Abdurahmonov.
Watch SPORTS.uz on YouTube