 Ravshan Irmatov to referee the match FC Navbahor vs FC Neftchi in Uzbek League
Uzbekistan Professional Football League has announced the list of referees who will officiate the third matchday of 2017 Uzbekistan Oliy League.
The matchday already started with a match between FC Pakhtakor and FC Dynamo who grabbed the victory in injury minutes. Also, other five matches will be held in the stadiums around Uzbekistan on March 16-18.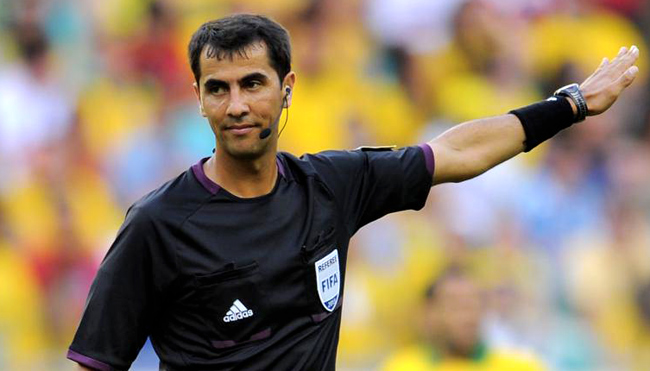 Here are the referees who will officiate in this matchday.
Matchday Three
March 16 (Thursday)
FC Navbahor (Namangan) vs FC Neftchi (Fergana)
Referees: Ravshan Ermatov (Tashkent), Abduhamidullo Rasulov (Tashkent), Jaxongir Saidov (Tashkent), Aleksandr Lupashko (Tashkent)
Inspector: Andrey Klepikov (Tashkent).
UzPFL member: Nail Lutfulin.
March 18 (Saturday)
FC Shurtan (Guzar) vs FC Mashal (Muborak)
Referees: Valentin Kovalenko (Tashkent), Ruslan Serazetdinov (Tashkent), Nabijon Ruzimov (Tashkent), Naim Kosimov (Karshi)
Inspector: Oleg Rubakov (Tashkent).
UzPFL member: Akhrol Inoyatov.
FC Kokand-1912 (Kokand) vs FC Kizilkum (Navoi)
Referees: Vladislav Seytlin (Tashkent), Alisher Usmanov (Tashkent), Timur Gaynulin (Tashkent), Shavkat Nasibullayev (Tashkent)
Inspector: Baxtiyor Togaev (Tashkent).
UzPFL member: Valeriy Letkin.
FC Bukhara (Bukhara) vs FC Obod (Tashkent)
Referees: Bakhtiyor Namozov (Tashkent), Ravil Shoyaxmetov (Tashkent), Andrey Snetkov (Tashkent), Ravshan Abduvohidov (Karshi)
Inspector: Hushvaqt Muxtorov (Samarkand).
UzPFL member: Bobur Haydarov.
FC Sogdiana (Jizzakh) vs FC Almalyk (Almalyk)
Referees: Ilgiz Tantashev (Bukhara), Husnudin Shodmonov (Bukhara), Abduraxman Kuldashev (Bukhara), Shuhrat Rajabov (Bukhara)
Inspector: Farhod Abdullaev (Tashkent).
UzPFL member: Aleksey Frolov.
Follow SPORTS.uz on Instagram