Results of the Uzbekistan Global Tour 2021 tournament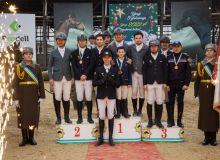 Trading programs have demonstrated excellent training
Trading programs have demonstrated excellent training and a high level of skill.
The support of the sports sections of the federations of conquests and equestrian sports of Uzbekisan took place. The points for the competitive period 2021 sheet are quickly calculated. Creating an emergency closing of the season by competition .
«Uzbekistan Global Tour 2021 FINAL». The results are executed:
Category "A"
1. Nurjon Tuyakbayev on a horse named Lancelotta
2. Timur Azizov on a horse named Bozart De Rue
Category "D"
1. Bekzod Kurbanov on a horse named Kalimera
2. Nurjon Tuyakbayev on a horse named Korado
3. Azam Tolibbayev grilled on the BS Kontender
Category "B"
1. Nurjon Tuyakbayev (Cornetta)
2 . Khurshidbek Alimzhanov (Leyman)
3. Saidamirkhon Turgunbayev (Chaman BS)
The absolute champions of the "global Tour 2021" tournaments according to the views of the scores scored were the naked riders themselves, who demonstrated high class throughout the entire sports season.
Connection:
Category "A"
Nurjon Tuyakbayev-269 points
Category "B"
Nurjon Tuyakbayev — 229 points
Category " D"
Bekzod Kurbanov — 256 points
Матнда хатолик топсангиз, ўша хатони белгилаб, бизга жўнатинг (Ctrl + Enter)