Roma is in the European Champions League... Will Shomurodov's dream come true?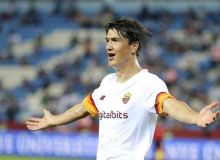 Recently, Eldor Shamurodov said that the main task for Roma was to win a ticket to the European Champions League and win the Conference League. This was later confirmed by Jose Mourinho.
The CIES Football Observatory Research Center has scientifically researched and analyzed the capabilities of the leading clubs in the strongest five championships in Europe and determined which teams will win prizes and the right to participate in the most prestigious tournament of Europe in the end of this season.
So, we will get acquainted with the results of the analysis of the researchers.
England
1st place "Manchester City".
2nd place "Manchester United".
3rd place "Liverpul".
4th place "Chelsea".
Premier League had the same results last season. According to estimates, West Ham will release the sixth place to Everton, who will qualify for the Euro Cups at the end of the season. According to analysts, the fifth place will be occupied by Totenheim, while Leicester is expected to come to the finish seventh.
Spain
1st place "Real".
2nd place "Atletico".
3rd place "Barcelona".
4 th place "Sevilla"
CIES Football Observatory experts predict that Real Madrid will take the title from Atletico at the end of the championship. Barcelona has not been able to compete with Madrid clubs for several seasons. Although the Catalans are having a hard time this season, there is a high probability of getting into the strong Three. Sevilla were the last to qualify for the European Champions League.
"Valencia" is the main candidate for the Europa League, which ended last season on the 13th.
Italy
1st place "Inter".
2nd place "Napoli".
3rd place "Milan".
4th place "Roma".
Experts from the Research Center believe that Inter will retain the title of champion in the A Series. "Napoli" is taking place in regular strong quarters. Milan is looking to restore its previous position again. Roma are said to leave Juventus behind in the fight for the Champions League.
Germany
1st place "Bavaria".
2nd place "Wolfsburg".
3rd place "Borussia D".
4th place "Bayer".
"Bavaria", as usual, does not give the championship to anyone. Munich players are superior to their competitors in all respects. As experts say, CIES seems to have overestimated Wolfsburg's capabilities this season."
France
1st place PSG.
2nd place "Marseille".
3rd place "Lyon".
4th place "Monaco".
We got acquainted with the CIES Football Observatory Research Center estimates, which conducts research in the football field. We will find out at the end of the season if the results of this research match.
And we are waiting for the fact that Eldor Shamurodov will win the Champions League of Roma.
Матнда хатолик топсангиз, ўша хатони белгилаб, бизга жўнатинг (Ctrl + Enter)