Rustam Tulaganov to get back pro boxing with Pablo Mendoza clash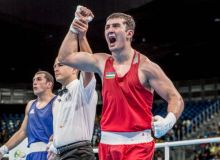 2015 Asian Championships and 2016 Rio Olympics medallist Rustam Tulaganov is coming back to pro boxing after a two-year break.
Rustam Tulaganov signed a contract with Patriot Promotions and he will square off in Krasnoyarsk, Russia.
In a scheduled light-heavy eight-round bout, Uzbek boxer will struggle with Nicaraguan Pablo Mendoza (9-2, 9KOs) on 21 December 2019.