Rustam Tulaganov's next fight date announced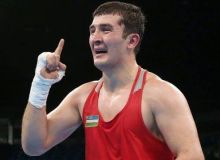 He will be back to the ring in Sochi.
Rio Olympics bronze medalist Uzbek light heavyweight Rustam Tulaganov (3-0 1KO) is potensialy to be back on August 15 in Sochi, Russia. This was reported by the athlete himself on his Instagram page. Meanwhile, former Russian world champion Murat Gassiev is expected to make his long-awaited debut fight in the super heavyweight on the same night. Rustam Tulaganov has signed a contract with the Russian promotion Patriot Boxing. He had beaten Norbert Dabrowski (23-9-2 10KO) in his last fight. After this fight, Tulaganov was ranked 15th in WBA and still maintains this position.
Found mistake? Select it and send us (Ctrl + Enter)