Shabab Al Ahli crash from ACL Round of 16 as Aziz Ganiev stars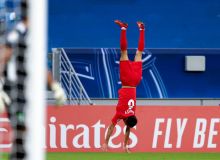 Al Ahli Saudi FC advanced to the 2020 AFC Champions League quarter-finals after beating Shabab Al Ahli Dubai FC 4-3 on penalties after the 120 minutes of their Round of 16 clash ended in a 1-1 draw at Al Janoub Stadium on Saturday.
Shabab Al Ahli Dubai gradually grew into the match, getting their first sight of goal in the 26th minute when Azizjon Ganiev moved in space down the right and drove an effort that was parried away by goalkeeper Mohammed Al Owais.
Ganiev tested the Al Ahli goalkeeper again a minute later with an effort from outside the box, but once more Al Owais was up to the task and made the save.
It was third time lucky for the Uzbek midfielder in the 29th minute as he collected Jumaa's pass 30 yards from goal and lined a third powerful drive that was deflected off young defender Abdulbaset Al Hindi and left Al Owais helpless to rescue, nestling into the back of the net to hand Shabab Al Ahli Dubai the lead.
Al Ahli returned into the second half with renewed confidence and within eight minutes of the restart, they had won a penalty after Ganiev brought Al Muwashar down inches inside the box. Al Soma stepped up and fired from the spot into the top corner to equalise for the Saudi side.
With the score at 4-3, it was down to talisman Al Soma to send Al Ahli into the next round, but the Syrian international's attempted Panenka hit the crossbar, handing the Emiratis a lifeline that Abdullah Al Naqbi failed to take, sending his shot high.
Found mistake? Select it and send us (Ctrl + Enter)