Shohjahon Ergashev enjoys a 4th round KO win over Abdiel Ramirez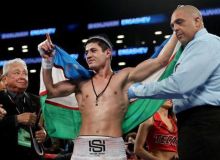 Shohjahon Ergashev enjoyed a much easier night's work than in his previous ShoBox appearance.
Six months after being extended the distance by Mykal Fox, the Uzbestkani southpaw plowed his way through Abdiel Ramirez in scoring a 4th round knockout Friday evening in Broken Arrow, Oklahoma.
Action was all one way in the Showtime-televised chief support, with Ergashev (17-0, 15KOs) immediately taking the fight to Mexico's Ramirez (24-5-1, 22KOs). The threat of a knockout surfaced early, with Ramirez doing his best to ride out the storm but proving far too inviting a target.
The lone knockdown of the bout was mired in controversy, although ultimately a moot point. Ergashev rocked Ramirez midway through round two, with a left-hand shot leaving his opponent defenseless. Another clean shot could've ended the night but it was instead a push that followed in causing Ramirez to hit the deck.
Ramirez was out of steam himself, and simply unable to defend against the incoming. Ergashev quickly found his second wind, frequently connecting with power shots until it was clear that Ramirez was done for the night. The official time was 2:00 of round four.
Ergashev has now scored four knockouts in his last five starts; Ramirez's career heads in the opposite directions, losing for the fourth time in his past five-ring appearances.
Found mistake? Select it and send us (Ctrl + Enter)