Shohjahon Ergashev refused two clashes. He is waiting for a big fight!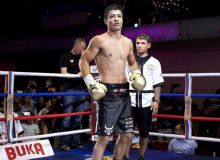 Now Shohjahon is on trial.
Kazakhstan's Vesti.kz reports that Uzbek puncher Shohjahon Ergashev (19-0, 17 KOs) has refused to fight Kazakhstan's undefeated boxer Batyr Jukembaev (18-0, 14 KOs).
According to Boxingscene.com and Boxing News insider Sean Nam, Shohjahon was offered a $ 25,000 for the fight, but Uzbek fighter did not respond to them.
"A number of sources tell me that MTK Global is involved in the activities of Shohjahon Ergashev. Court documents show that the boxer's promoter, Dmitry Salita, filed two lawsuits against Shohjahon for violating the terms of his contract and organizing a fight in Russia last year.
It was also revealed that Shohjahon Ergashev had refused to fight Gary Antuanne Russell with $ 50,000 purse at Showtime, and Batyr Jukembaev for $ 25,000 at the Ring City professional boxing night. According to the lawsuit, Ergashev may lose his position in the IBF rankings", - writes insider Sean Nam.
According to reports, Batyr Jukembaev also gave up hope in the fight as well as Shohjahon. The Kazakh boxer also signed a contract with MTK Global Management Company. Jukembaev has a fight in summer, reaching an agreement with Puerto Rican leather glove master Subriel Mathias to fight. His future opponent has beaten his opponents by knockout in 16 fights and lost once.
It will be recalled that Shohjahon Ergashev defeated Belarusian Dmitry Milyusha (9-4-1.4 KO) in the second round of a professional boxing night in Krasnogorsk, Russia in November last year.
When Shohjahon Ergashev recently arrived in Tashkent, he contacted Sports.uz. During the interview, Uzbek boxer confirmed that he was actually suing Dmitry Salita and refused the fights he offered. Shohjahon said Salita promised him to host the championship fights through 2020, but in practice that did not happen.
The knockouter boxer told us that he was in talks with other companies and had to fight an important bout until the summer, and that he planned to organize a professional boxing night in Tashkent through his personal promotion company.
Ergashev started his professional boxing career in 2015 in Russia. Ergashev had the first nine fights in different cities of this country, moved to the United States in 2017. Sonny Fredrickson, Micheal Fox, Nazareno Gaston Ruiz, Abdiel Ramires, Adrian Estrella, who are considered invincible in this country, which is the center of professional boxing, defeated American fans and experts.
Shohjahon Ergashev is currently training in Russia and preparing for future fights.
Матнда хатолик топсангиз, ўша хатони белгилаб, бизга жўнатинг (Ctrl + Enter)