Srechko Katanec: It is necessary to form a cohesive team, without being tied to names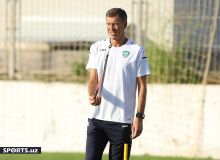 Katanec shared his thoughts before the game with Georgia.
The head coach of the Uzbekistan national team, Srechko Katanets, shared his thoughts on the eve of the friendly match with Georgia.
- There is a match with Georgia ahead. How is the work on the formation of the squad for this match going?
- We always form the squad in agreement with the Football Association. I think Georgia is a great opponent. This will be a good test for us. There is still a long way to go before the game, and we will have time to prepare better. As for the squad, we have a lot of problems with the defense. In particular, Rustam Ashurmatov could not come because of visa problems. Also, Shahzod Umarov cannot help our team because of the coronavirus.
- You mentioned that you watched several meetings and discovered new names for yourself. Who would you single out from the newcomers?
- We can talk about almost all young players. Before arriving, I knew about Shomurodov and Masharipov. All the other young players were news to me. We give them time and give them a chance, even if they are wrong. Later they will be able to adapt and help our team.
- Currently, the competition on the offensive line of our national team is intensifying. In general, how do you assess the performance of these players?
- That's right, everything is fine in the attack now. But you need to form the whole team without relying on the players. Now we have problems in defense. My main goal is to create a cohesive team, as well as strengthen the defense line.
Матнда хатолик топсангиз, ўша хатони белгилаб, бизга жўнатинг (Ctrl + Enter)