Sultonalieva, Rakhimova, Shogdarova wins their bouts at the Balkan Women's Tournament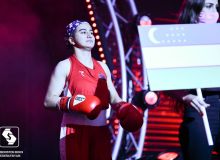 Uzbekistan's young female boxers are attending the new 7th edition of the Balkan Women's Tournament where ten elite champions will be crowned after the finals in Bulgaria.
Uzbekistan's Gulasal Sultonalieva, Tursunoy Rakhimova and Sitora Shogdarova opened the international event with triumphs in Sofia, reports asbcnews.org.
Host Bulgaria, Chile, England, Finland, France, Germany, Hungary, Italy, Kosovo, Norway, Romania, Russia, Slovenia, Switzerland, Uzbekistan and Wales sent boxers to the 7th Balkan Women's Tournament. Altogether 61 elite female boxers are competing in the event which is a preparation for the upcoming AIBA Women's World Boxing Championships. The global female event will be held in Istanbul, Turkey in the first part of December still in 2021.
Gulasal Sultonalieva competed in the 2018 and 2019 editions of the AIBA Women's World Boxing Championships and she progressed well enough also in the previous year. The Uzbek light flyweight (48kg) boxer, who claimed a silver medal at the ASBC Asian Women's Boxing Championships, had a tough European rival, Italy's well-experienced Roberta Bonatti but the 22-year-old Sultonalieva managed to win their contest.
Tursunoy Rakhimova not only qualified for the Tokyo Olympic Games but she opened with success in Japan's capital. She was defeated by only Turkey's European Games winner star and eventual silver medallist Busenaz Cakiroglu in the last 16 which was a seriously narrow contest. The 24-year-old Uzbek walked over to the next stage of boxing in Sofia where her opponent Bulgaria's Erika Stanoeva was unable to box against Rakhimova.
Sitora Shogdarova is only 21 but she earned a silver medal at the ASBC Asian Women's Boxing Championships in Dubai. The Uzbek bantamweight (54kg) girl had the most difficult opponent in Sofia on Day1, as she had to meet with Russia's EUBC European Women's Boxing Championships silver medallist Karina Tazabekova. Shogdarova exceeded all of the expectations and bowed out her Russian opponent in Sofia causing the main sensations of the opening day.
Матнда хатолик топсангиз, ўша хатони белгилаб, бизга жўнатинг (Ctrl + Enter)