Super League. FC Sogdiana vs FC Dinamo match to kick-off the Matchday Three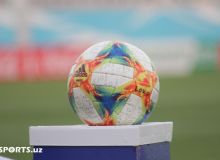 The Matchday Three of Uzbekistan Super League will be kicked off as FC Sogdiana will continue their campaign to finish the league with medals.
Jizzakh-based FC Sogdiana will welcome FC Dinamo to the Sogdioana Stadium for the sake of claiming three points this evening.
FC Metallurg will travel to Navoi for their Uzbek League clash against FC Kizilkum at the Yoshlik Stadium.
Sogdiana

Sanjar Rashidov

51'

Shohruz Norxonov

60'

Sardor Qulmatov

70'

Superleague Matchday 23

29/10/2019 17:00

Finished

Dinamo

Stadium: Central stadium "Sogdiana"

Referee: Sherzod Qosimov
Qizilqum

Superleague Matchday 23

29/10/2019 17:00

Finished

Metallurg

Stadium: "Yoshlik" stadium, 1320 spectators

Referee: Valentin Kovalenko