Super League. Matchday Eighteen Attendance in Numbers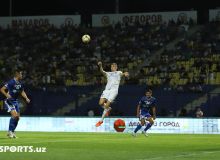 The Matchday Eighteen of 2019 Uzbekistan Super League was ended as FC Pakhtakor earned a 5-1 win over FC Andijan and FC Lokomotiv played a 1-1 draw with FC Bunyodkor.
More than 31 thousand spectators visited stadiums in the Matchday Eighteen of the Uzbekistan Super League.
The most spectators (6 354) came to the Pakhtakor Stadium to witness FC Pakhtakor's 5-1 win over FC Andijan.
Only 3 120 spectators visited the Surkhon Stadium to watch Super League match between FC Surkhon and FC Kizilkum as the hosts registered a 2-0 victory.
Here, we count 2019 Uzbekistan Super League Matchday Eighteen Attendance.
FC Pakhtakor 5-1 FC Andijon – 6,354
FC Metallurg 1-0 FC Navbahor – 5,421
FC Sogdiana 1-0 FC AGMK – 5027
FC Bunyodkor 1-1 FC Lokomotiv – 4,842
FC Kokand 1-0 FC Nasaf – 3,252
FC Dinamo 0-3 FC Bukhara – 3,123
FC Surkhon 2-0 FC Kizilkum – 3,120
Found mistake? Select it and send us (Ctrl + Enter)