Super League. Matchday Fifteen Attendance in Numbers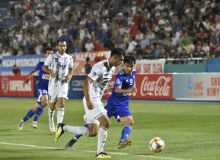 The Matchday Fifteen of 2019 Uzbekistan Super League was ended as FC Metallurg secured a 2-1 win over FC Nasaf and FC Lokomotiv claimed three points by beating FC Dinamo with a 2-0 win.
More than 22 thousand spectators visited stadiums in the Matchday Fifteen of the Uzbekistan Super League.
The most spectators (6 142) came to the Karshi Central Stadium to witness FC Nasaf's defeat to FC Metallurg in front of the crowd.
Only 1 348 spectators visited the OKMK Stadium to watch Super League match between FC AGMK and FC Andijan as the sides shared the points with a 2-2 draw.
Here, we count 2019 Uzbekistan Super League Matchday Fifteen Attendance.
FC Nasaf 1-2 FC Metallurg – 6 142
FC Bukhara 0-0 FC Navbahor – 5 820
FC Kizilkum 0-5 FC Pakhtakor – 4 460
FC Kokand 1-2 FC Sogdiana – 2 854
FC Lokomotiv 2-0 FC Dinamo – 1 710
FC Bunyodkor 3-0 FC Surkhon – 1 355
FC AGMK 2-2 FC Andijan – 1 348