Super League. Matchday Fourteen Attendance in Numbers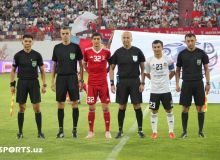 The Matchday Fourteen of 2019 Uzbekistan Super League was finished on Saturday as FC Metallurg secured a 2-1 win over FC AGMK and FC Andijan claimed three points by beating FC Bukhara with a 2-0 win.
More than 35 thousand spectators visited stadiums in the Matchday Fourteen of the Uzbekistan Super League.
The most spectators (10 880) came to the Navbahor Central Stadium to witness FC Navbahor's defeat to FC Kizilkum in the first match of the second phase.
Only 1 130 spectators visited the Railway Institute Stadium to watch Super League match between FC Bunyodkor and FC Dinamo as the hosts picked a 4-2 win.
Here, we count 2019 Uzbekistan Super League Matchday Fourteen Attendance.
FC Navbahor 0-1 FC Kizilkum – 10 880
FC Andijan 2-1 FC Bukhara – 6 182
FC Sogdiana 1-0 FC Lokomotiv – 5 205
FC Pakhtakor 3-1 FC Kokand – 5 176
FC Metallurg 2-1 FC AGMK – 4 521
FC Surkhon 1-3 FC Nasaf – 2 304
FC Bunyodkor 4-2 FC Dinamo – 1 130