Super League. Matchday Twenty Four Attendance in Numbers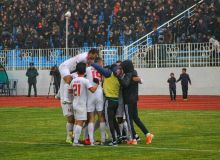 The Matchday Twenty Three of 2019 Uzbekistan Super League was ended as FC Pakhtakor continued their winning streak with a 2-1 victory over FC Nasaf, while FC Lokomotiv shocked FC Andijan with a 4-0 win and FC Bunyodkor secured a 2-1 win over FC Navbahor to move the 3rd place in the League table.
More than 21 thousand spectators visited stadiums in the twenty-fourth matchday of the Uzbekistan Super League.
The most spectators (6,223) came to the Surkhon Stadium to witness FC Surkhon vs FC Sogdiana match.
Only 852 spectators visited the Metallurg Stadium to watch Super League match between FC Metallurg and FC Dinamo as the hosts claimed a 5-0 win.
Here, we count 2019 Uzbekistan Super League Matchday Twenty Four Attendance.
FC Surkhon 1-0 FC Sogdiana – 6,223
FC Nasaf 1-2 FC Pakhtakor – 5,482
FC Kizilkum 1-1 FC Bukhara – 3,222
FC Andijan 0-4 FC Lokomotiv – 2,550
FC Kokand 1-3 FC AGMK – 2,550
FC Bunyodkor 2-1 FC Navbahor – 1,045
FC Metallurg 5-0 FC Dinamo – 852