Super League. Matchday Twenty One Attendance in Numbers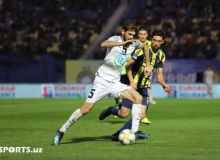 FC Andijan have held off a strong performance from FC Surkhon to register a 2-1 win as they ended Super League Matchday One fixtures on Wednesday.
More than 31 thousand spectators visited stadiums in the Matchday Twenty One of the Uzbekistan Super League.
The most spectators (10 270) came to the Pakhtakor Stadium, where FC Pakhtakor defeated FC Sogdiana with a 3-0 victory and celebrated their 12th Uzbek League title.
Only 615 spectators visited the Bunyodkor Stadium to watch Super League match between FC Bunyodkor and FC Bukhara as the sides shared the points.
Here, we count 2019 Uzbekistan Super League Matchday Twenty One Attendance.
FC Pakhtakor 3-0 FC Sogdiana – 10 270
FC Andijon 2-1 FC Surkhon – 5 413
FC Navbahor 1-0 FC Dinamo – 5 332
FC AGMK 2-1 FC Nasaf – 3 852
FC Kokand 2-3 FC Metallurg – 3 655
FC Kizilkum 1-1 FC Lokomotiv – 2 480
FC Bunyodkor 1-1 FC Bukhara – 615