Super League. Matchday Twenty Three Attendance in Numbers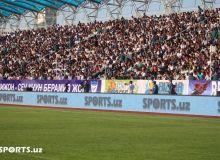 The Matchday Twenty Three of 2019 Uzbekistan Super League was ended as FC Pakhtakor continued their victorious run with a 3-1 win over FC Surkhon, while FC Lokomotiv played a 1-1 draw with FC AGMK.
More than 24 thousand spectators visited stadiums in the twenty-third matchday of the Uzbekistan Super League.
The most spectators (6,425) came to the Soghlom Avlod Stadium to witness FC Andijan vs FC Bunyodkor match.
Only 1,115 spectators visited the OKMK Sports Complex to watch Super League match between FC AGMK and FC Bunyodkor as the sides played a 1-1 draw.
Here, we count 2019 Uzbekistan Super League Matchday Twenty Three Attendance.
FC Andijan – FC Bunyodkor 1:1 – 6,425
FC Navbahor – FC Nasaf 1:1 – 5,530
FC Sogdiana – FC Dinamo 3:0 – 4,600
FC Bukhara – FC Kokand 0:1 – 3,320
FC Pakhtakor – FC Surkhan 3:1 – 2,220
FC Kizilkum – FC Metallurg 1:1 – 1,320
FC AGMK – FC Lokomotiv 1:1 – 1,115