Super League. Meet the Team of the Week | Matchday 18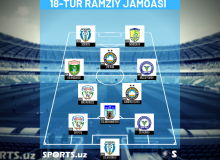 The Matchday Eighteen of 2019 Uzbekistan Super League was ended as FC Pakhtakor earned a 5-1 win over FC Andijan and FC Lokomotiv played a 1-1 draw with FC Bunyodkor.
SPORTS.uz Internet Information Portal created the Team of Matchday Eighteen with eleven most valuable players of this matchday.
GK: Rakhimjon Davronov (FC Bukhara)
DF: Abbos Otakhonov (FC Metallurg), Murod Kholmuhammedov (FC Kokand), Elyor Orifov (FC Sogdiana)
MF: Muzaffar Muzaffarov (FC Metallurg), Kakhi Makharadze (FC Sogdiana), Sardor Sobirkhujaev (FC Pakhtakor), Jamshid Iskandarov (FC Lokomotiv)
FW: Andrey Sidorov (FC Bukhara), Dragan Ceran (FC Pakhtakor), Shokhnazar Norbekov (FC Surkhon)
Found mistake? Select it and send us (Ctrl + Enter)