Svetlana Osipova awarded a bronze medal at the 2019 Chiba World Taekwondo Grand Prix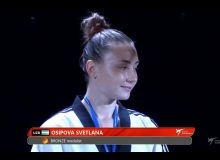 The World Taekwondo Grand Prix, being held for the first time in Japan, produced an opening day of drama at the Chiba Port Arena.
Uzbekistan's Svetlana Osipova defeated all his opponents in the way to the semi-final against Rio Olympics champion Zheng Shuyin from China. However, Osipova lost her opportunity for a spot in the final as she had to end her campaign with a bronze medal along with Maria Espinoza of Mexico.
The prestigious invitational Grand Prix offers valuable Olympic Games ranking points less than a year before Tokyo 2020.