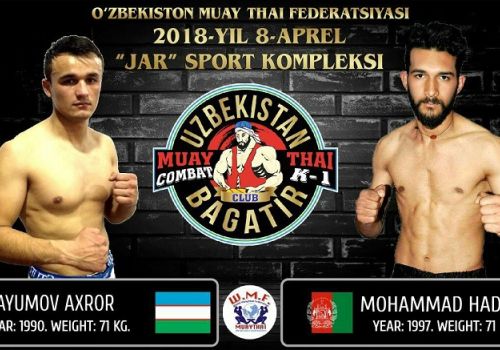 Tashkent to host muay thai contests at the Jar Sports Complex
Tashkent is welcoming the strongest muay thai athletes to the Jar Sports Complex on April 8. Five Uzbek muay thai masters will compete with foreign athletes.
Here are the couples for the muay thai night will take place in Tashkent.
33 kg : Humoyun Hakimjonov (Uzbekistan) - Vitaliy Novikov (Kazakhstan)
57 kg: Nosir Tursunov (Uzbekistan) - Farhad Ahmad (Afghanistan)
60 kg: Husan Okilov (Uzbekistan) - Toghan Zabihulli (Afghanistan)
63.5 kg : Javohir Jalolov (Uzbekistan) - Amir Vahidillo (Afghanistan)
71 kg : Ahror Kayumov (Uzbekistan) - Hadith Mohammed (Afghanistan)
Watch SPORTS.uz on YouTube