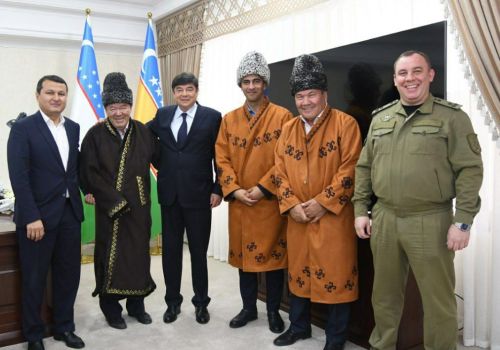 The 110th anniversary of Uzbek football was widely celebrated in Karakalpakstan
In this regard, festive events have been organized in the Republic of Karakalpakstan today. First, a solemn meeting of AFU officials led by Ravshan Irmatov took place, after which the participants of the event visited the homes of a number of veterans of football in Karakalpakstan.
In the afternoon, a meeting was held with Chairman of the Zhokargy Kenes of the Republic of Karakalpakstan Murat Kamalov, Chairman of the Council of Ministers, President of the Football Association of Karakalpakstan Kahraman Sariev.
During the meeting, Murat Kamalov spoke about the development and popularization of football among the local population, and also shared his plans for the future. At the end of the conversation, Murat Kallibekovich and Kakhramon Rakhmatulayevich were awarded a badge "For their contribution to the development of football in Uzbekistan". In addition, a number of veterans received memorable gifts.
Prior to that, the celebration of the 110th anniversary of Uzbek football was held in the Jizzakh and Khorezm regions, where local fans of this sport enjoyed a real football celebration. During this trip, a number of events dedicated to the game of millions are also planned to be held in Karakalpakstan.
Watch SPORTS.uz on YouTube