The mentor's opinion that Ruzikul Berdiyev's contract with the club is ending, why Bobir Abdiholikov did not congratulate the team.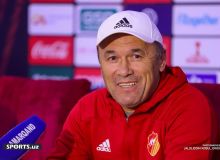 After the Uzbekistan Cup final, a press conference was organized with the participation of the head coaches of the two teams. On it, the opponents' mentor Ruzikul Berdiyev expressed his opinion about the game.
- We are glad to win. We had a series of big games. We intended with the players to move to victory in the final and do it. Thanks to the fans, we dedicate this victory to them.
Today we played one less person. Even in this case, my students acted confidently. Perhaps the Champion team acted more intelligently towards us, but we coped with the task.
We also won the semi-final with a small number of people. We made changes, we spent energy evenly. That's why we won the trophy.
As I mentioned yesterday, Nasaf has played more matches this season than any other club. It was hard. We won through motivation, using players who were narrow, but had a reserve.
A year later we built a new team. We haven't lost our game.
Save the team? We have extended contracts with many players for 3-4 years. Only some big players and coaches finish the deal. But the management's goals for next year are much higher...
Oybek Bozorov is not a rude football player. He couldn't see the situation openly by himself. I asked my assistants. However, the end was good for us and we don't need to remember that.
Bobir Abdiholikov watched the final from the stadium, and can we see him in the team next season?I wonder why he didn't congratulate us on the victory if he watched the final from the stadium. Of course, we will talk about his future with the club later," Ruzikul Berdiyev said.
Матнда хатолик топсангиз, ўша хатони белгилаб, бизга жўнатинг (Ctrl + Enter)