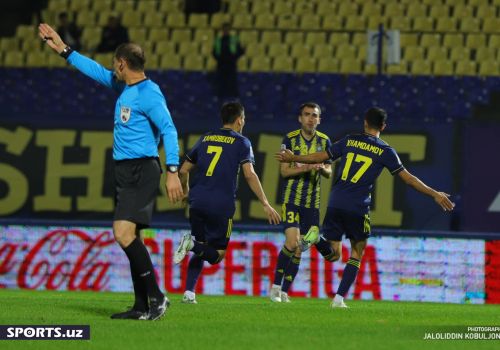 The most beautiful goals of the 24th round of the Super League of Uzbekistan top-10
The 24th round of the Super League took place on November 2-3. We reported the results through our website.
A number of interesting games and peculiar contrasts were observed in this tour. In the previous round, FC Dynamo, which, obviously, will be relegated to the professional league, will fight with FC Nasaf. The Dragons won 1-0. The hosts again failed to score from the penalty spot, as in the match against FC Bunyodkor. This time, Lima Cruz could not break through to the goal from 11 meters. Previously, this situation was observed in Stanoevich.
The runner-up FC Pakhtakor hosted FC Sogdiana in Tashkent. The competition, which is expected to be considered one of the central games, ended with an easy victory for the hosts.
FC Navbahor lined up in Tashkent against Lokomotiv, which took the last place in the Super League. Samvel Babayan brought his former team in line with important points. FC Lokomotiv is approaching the professional league.
FC AGMK hit the home team's goal 3 times, conceding a goal from Neftchi in Ferghana. FC Kyzylkum drew with "Kokand-1912" at home. "Olympic" was ahead of one of its competitors "Metallurg" in the standings.
"Bunyodkor " in a stubborn duel left"Surkhan" without glasses. The Swallows won with one less person.
And now look at the 10 most beautiful heads of this tour:
10th place. Martin Boake FC AGMK
9th place. Zoran Marusic " Navbahor"
8th place. Ruben Sanchez "Surkhan"
7th place. Temurkhoja Abdukholikov "Kyzylkum"
6th place. Hajiakbar Alizhanov"Pakhtakor"
5th place. Ivan Solovyov "Nasaf"
4th place. Martin Boake FC AGMK
3rd place. Saidazamat Mirsaidov "Olympic"
2nd place. Farrukh Ikramov "Bunyodkor"
1st place. Dastan Khamdamov "Pakhtakor"
Watch SPORTS.uz on YouTube