The officials of the 24th round of the Super League became known. The central match of the tour will be judged by Shavkat Nasibullayev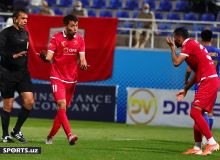 The VAR system will be used in 3 matches.
The 24th round of the Super League will be held on November 4-6. PFL Uz has published the names of the officials of the upcoming matches.
Thursday, November 4th
AGMK – "Andijan"
Referees: Akobirkhuzha Shukurullaev, Abdukhamidillo Rasulov, Bakhtierkhuzha Shavkatov, Ibrohim Ismoilov
Inspector: Timur Abdullayev
VAR Judge: Aziz Asimov
VAR Assistant: Alexander Sidorov
Inspectors VAR: Valentin Kovalenko
Commissioner: Alisher Fayziev
"Bunyodkor" – "Kizilkum"
Referees: Elyor Tursunov, Zufar Eliboev, Farkhod Usmonov, Gayrat Juraev
Inspector: Oleg Dachev
Commissioner: Sardor Kudratullaev
Friday, November 5
"Navbahor" – "Metallurg"
Judges: Ilgiz Tantashev, Rishat Nugmanov, Donier Sailavov, Doston Mirzaraimov
Inspector: Rashid Aitekov
Commissioner: Oybek Yunusov
"Lokomotiv" – "Sogdiana"
Judges: Shavkat Nasibullaev, Andrey Tsapenko, Timur Gainullin, Sultanmurad Abdurakhmonov
Inspector: Bakhtiyor Tagaev
VAR Referee: Akhrol Riskullaev
VAR Assistant: Alisher Usmanov
VAR Inspector: Valentin Kovalenko
Commissioner: Laziz Kuchkarov
Saturday, November 6
"Pakhtakor– - "Surkhan"
Referees: Akhrol Riskullaev, Anvar Marazhabov, Ziedulla Abdurakhmonov, Abdurashid Khudoiberganov
Inspector: Marat Ismailov
VAR Judge: Rakhimbek Karimov
VAR Assistant: Timur Galeev
VAR Inspector: Vladislav Zeitlin
Commissioner: Begzod Aripov
"Mashal' – "Turon"
Referees: Asker Nazhafaliyev, Husniddin Shodmonov, Sanzhar Shoysupov, Doston Rakhmonov
Inspector: Bobur Haidarov
Commissioner: Zhakhongir Rakhmatullayev
Матнда хатолик топсангиз, ўша хатони белгилаб, бизга жўнатинг (Ctrl + Enter)