The Uzbek brothers will take part in K-1 tournament in Kazakhstan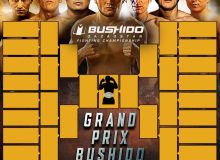 Almaty is hosting the tournament.
The K-1 Grand Prix tournament will be held on October 25 in Almaty, Kazakhstan by the Bushido Kazakhstan Promotion League. It is important for us that on this night of battle, two of Uzbek participants, brothers Jamshid and Bobur Tagiev, will also fight. Bobur Tagiev will compete in the weight category of 71 kg. That is, eight participants come face to face with each other. To be more precise, he fights three times a day. These eight fights are conducted based on MMA rules. Of course, the championship belt of this promotion is put for the winner. Jamshid Tagiev will take part in one-on-one super fights. Vadim Loparev is a master of sports in muaythai, multiple champion of Kazakhstan, winner of the European Open 2013, Asian champion, silver medalist of the Asian Games (Ashgabat, 2017), winner of the World Championship (2017, Minsk). will fight for the championship title with.
A number of Uzbek referees will also take part in this tournament. In particular, Elmurad Amanbaev will be the chief referee, Mansur Tugizbaev, Mavlon Qahhorov, Nurali Bakhriddinov, Jamshid Kenjaev will be the referees. Our delegation is headed by the chairman of the K-1 Federation of Uzbekistan Jasur Nematov.
Found mistake? Select it and send us (Ctrl + Enter)