The Uzbek coach is highly trusted in Japan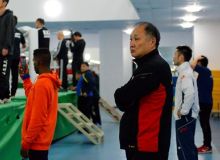 He is the head coach of the Japanese boxing team.
Boxing coach Vladimir Shin, who has a place in Uzbek boxing, is currently working in Japan boxing team. It is no exaggeration to say that he has a high level of trust there. Because last year, Japanese cinematographers made a documentary called "Miracle Workout" dedicated to this coach. The film has been aired several times on Japanese television. Now, he is recognized by the Embassy of Japan in Uzbekistan.
- Vladimir Nikolaevich Shin is a well-known former Soviet Union boxer, bronze medalist of the World Championship ... He is a coach who achieved high results in boxing at the 2016 Rio de Janeiro Olympic Games and grew up in Uzbekistan. Currently, Vladimir Nikolaevich is the head coach of the Japanese men's and women's national teams. Based on the rich experience and knowledge of the head coach of the national team of Uzbekistan and vice-president of the Asian Amateur Boxing Federation, he is developing a program of training of the Japanese national team for the Olympic Games. We believe that Vladimir Nikolaevich Shin will be the main leader in the conquest of the Olympic peak by the boxers of the Japanese national team.
Exactly such a confession was posted on the Internet networks of the Japanese embassy.
Found mistake? Select it and send us (Ctrl + Enter)