Transfer News. FC Andijan, Nigerian Emmanuel Ariwachukwu part ways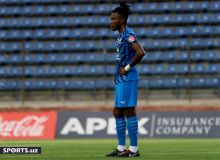 FC Andijan and Nigerian defender Emmanuel Ariwachukwu have mutually terminated the contract, reports club's media department.
Emmanuel joined Andijan side as a free agent in winter transfer window. The 26-year-old played 8 matches for FC Andijan as he was shown 4 yellow and 1 red cards.
Found mistake? Select it and send us (Ctrl + Enter)