Transfer News. Median Smith backs to FC Kizilkum from FC Lokomotiv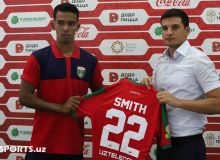 After a six-month period in Tashkent side, Medina made a return to Navoi-based FC Kizilkum as a free agent, reports club's media department.
Nicaraguan player Ariagner Smith Medina backed to FC Kizilkum after his contract with FC Lokomotiv was ended this January.
In March 2019, the 21-year-old striker made a debut in Uzbek League with FC Kizilkum, but he moved to FC Lokomotiv later in July 2019.