 U-20 Uzbekistan national futsal team won over U-20 Kyrgyzstan side in a friendly match
Yesterday U-20 Uzbekistan national futsal team played against U-20 Kyrgyzstan side in a friendly match which was finished with a victory of Uzbekistan.
Both teams showed the best performance for the crowd who visited Uzbekistan Sports Complex as they witnessed nine wonderful goals.
Akbar Usmonov's classical finish with an acrobatic shot in the last seconds of the game gave the victory to Uzbek side as the fifth goal of his team.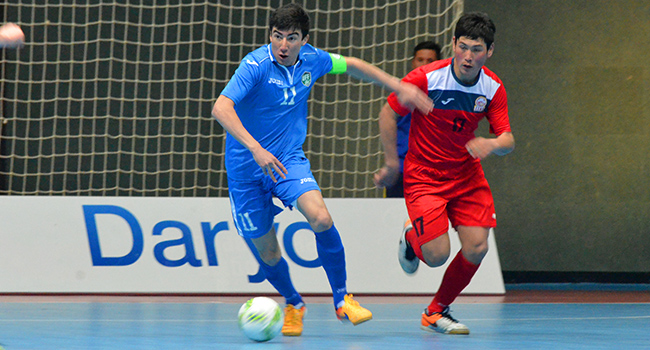 U-20 Uzbekistan 5:4 U-20 Kyrgyzstan
Goals: R.Ismatullaev 6, Kh.Erkinov 15, A.Bayburin 26, A.Muhammadiev 39, A.Usmonov 40 - A.Tursunov 7, 31, 36, D.Isakov 19
U-20 Uzbekistan: 1.Ramil Almamedov, 21.Doniyor Mahmudov, 1.Mirislom Miraliev, 2.Shohjahon Shonazarov, 3.Olim Vohidov, 4.Asli Muhammadiev, 5.Doniyor Tohirov, 6.Mehroj Khudoyberdiev, 8.Khusniddin Nishonov, 9.Ravshan Ismatullaev, 10.Timur Saydullaev, 11.Ilhom Hamroev, 13.Akbar Usmonov, 14.KHushnur Erkinov, 15.Artur Aminov, 29.Aliakbar Bayburin.
U-20 Kyrgyzstan: 16.Nurultan Abasov, 11.Mirlan Kholdubaev, 19.Damir Isakov, 12.Aktai Tashtanov, 7.Akubek Uulu Anarbek, 15.Nursultan Abdudaev, 3.Emir Jetubaev, 10.Mamat Kholdoshov, 9.Azimkhan Yunusov, 17.Arstanbek Tursunov, 21.Tumarbek Makeev, 5.Kanai Nusupov, 1.Halil Boroshonov.
Yellow card: A.Anarbek 33
Like official page of SPORTS.uz on Facebook