U16 Uzbekistan play a friendly match against Tajik side in Khujand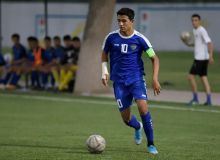 Uzbekistan U16 national team are organizing their training sessions in Khujand, Tajikistan.
Under the coaching of Olim Shokirov, Uzbek side played a friendly match against Tajikistan U16 at the 20 Years of Independence Stadium on Monday.
A 38-minute strike from Khusrav Toirov secured a 1-0 win for Tajik side.
Found mistake? Select it and send us (Ctrl + Enter)