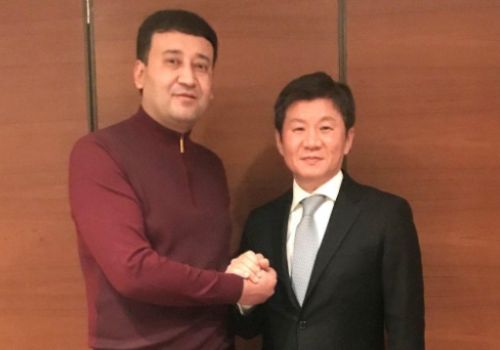 UFA and KFA officials aim to cooperate and support development of football in both countries
Umidjon Akhmadjonov and Chung Mong-gyu discussed possible opportunities to exchange experience in the field of youth football by organising friendly matches between Uzbekistan and South Korea national teams in various age categories.
The agenda also included a discussion of cooperation with referee training and coach development between Uzbekistan and South Korea football governing bodies.
As a note, Uzbekistan Football Association and Korea Football Association signed the Memorandum of Collaboration to cooperate and support the development of football in both countries by organising training sessions and camps, friendly matches, development workshops for technical staff, and exchanging knowledge and expertise for the mutual benefit of both parties.
Uzbekistan Football Association has already set its action plans for 2018-2022 years which are designed to create best conditions to organize football leagues and tournaments in compliance with the provisions of the regulations of the Asian Football Confederations (AFC):
- to develop the game most notably youth and adult football, futsal, beach soccer through well-established football development programmes;
- to educate and prepare knowledgeable and experienced football coaches, who can apply their knowledge and skills in the field;
- to increase the cooperation and solidarity relations with the FIFA, AFC and other football confederations, FIFA member associations; and to lead fight against corruption and match-fixing , which threats to the integrity of football in the country;
- to provide a democratic and sustainable environment and increase the transparency and accountability in the management of Uzbekistan Football Association.
Follow SPORTS.uz on Instagram