UFA announces Uzbekistan's 22-man squad for AFC U19 Championship 2020 Qualifiers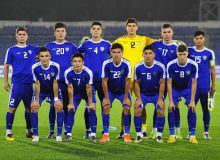 Uzbekistan will start their journey to the AFC U-19 Championship 2020 in Saudi Arabia on 6 November 2019.
Group F of the Qualifiers will swing into action with Saudi Arabia, India and Afghanistan aiming to secure the automatic slot, while Uzbekistan will take part in the 2020 AFC U-19 Championship as tournament hosts.
Uzbekistan Football Association has announced a 22-man squad for the AFC U-19 Championship 2020 Qualifiers.
| | | | | |
| --- | --- | --- | --- | --- |
| # | Player Name | Birth Year | Position | Club |
| 1 | Islomjon Abdullakhonov | 2001 | Goalkeeper | Navbahor |
| 2 | Abduvohid Nematov | 2001 | Goalkeeper | Nasaf |
| 3 | Asadullakhon Polvonov | 2001 | Goalkeeper | Nasaf |
| 4 | Alibek Davronov | 2002 | Defender | Nasaf |
| 5 | Odilbek Abdumajidov | 2001 | Defender | Metallurg |
| 6 | Sunnatilloxon Hamidjonov | 2001 | Defender | Pakhtakor |
| 7 | Saidazamat Mirsaidov | 2001 | Defender | Pakhtakor |
| 8 | Ibrohimhalil Yuldoshev | 2001 | Defender | Pakhtakor |
| 9 | Eldorbek Begimov | 2001 | Defender | AGMK |
| 10 | Khurshidbek Ubaydullaev | 2002 | Defender | Bunyodkor |
| 11 | Ibrohim Ibragimov | 2001 | Midfielder | Bunyodkor |
| 12 | Jasurbek Jaloliddinov | 2002 | Midfielder | Bunyodkor |
| 13 | Diyorbek Rahimkulov | 2002 | Midfielder | Bunyodkor |
| 14 | Diyor Ramazonov | 2001 | Midfielder | Pakhtakor |
| 15 | Behzod Shamsiev | 2001 | Midfielder | Pakhtakor |
| 16 | Davron Anvarov | 2001 | Midfielder | Metallurg |
| 17 | Ulugbek Khoshimov | 2001 | Forward | Pakhtakor |
| 18 | Ruslan Roziev | 2002 | Forward | Pakhtakor |
| 19 | Otabek Jurakuziev | 2002 | Forward | Bunyodkor |
| 20 | Muhammadqodir Rahimberganov | 2001 | Forward | Khorezm |
| 21 | Khojimat Erkinov | 2001 | Forward | Kokand |
| 22 | Muzaffar Olimjonov | 2001 | Forward | Navbahor |