UFC Fight Night 172. Zarrukh Adashev vs Tyson Nam Face To Face Video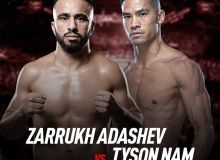 Zarrukh Adashev (3-1) was only called up to take part in this event earlier this week after Ryan Benoit withdrew to face Tyson Nam.
Adashev is a relative novice in the professional MMA scene with just four fights under his belt but the 27-year-old Uzbek has a kickboxing background and will be desperate to impress.
He lost his first pro fight by submission but has a three-fight win streak behind him with his last fight coming back in October at Bellator 232 where he beat Tevin Dyce by TKO.
Tyson Nam has lost both of his fights in the UFC after finally making it to the big time back in September at the age of 35. Both of those losses to Sergio Pettis and Kai Kara-France came via decision and he will be desperate to get a win here against a somewhat unknown quantity in Adashev.
Found mistake? Select it and send us (Ctrl + Enter)