Ukrainian Vitaliy Mirniy sign a contract with FC Andijan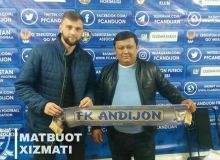 FC Andijan are finalising their preparation for the upcoming Uzbekistan Super League will be kicked off on 8 March 2019.
FC Neftchi goalkeeper Vitaliy Mirniy joined Andijan side, reports club's media department on Friday.
Under the coaching of Eldor Sakaev, Andijan side faced Uzbekistan Pro League side FC Neftchi in a friendly match on Thursday. A double from Ruzimboy Akhmedov secured a 2-1 victory for FC Andijan over FC Neftchi on Thursday.