Uzbek athletes claim 22 medals in Fujairah Open International Taekwondo Tournament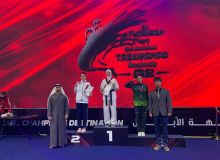 Uzbekistan's 48 athletes took part in the biggest international Taekwondo championship — Fujairah Open — from January 31 to February 2.
The 8th edition of Fujairah Open has received more than 2000 entries including more than 1600 athletes from 43 countries.
The event became all the more important for international players after it was upgraded and ranked G-2 by the World Taekwondo headquartered in South Korea.
Uzbek athletes finished their campaign with 11 gold, 7 silver and 4 bronze medals at the 2020 Fujairah Open.