Uzbek boxer to fight for WBC youth world championship belt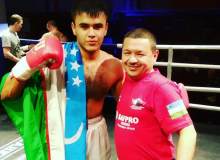 Mahammatjonov is continueing his undefeated.
Undefeated super welterweight Ravshan Mahammatjonov's next fight is possible to be for WBC youth world super welterweight belt. According to the coach of this boxer Zufar Sulaymonov, negotiations are underway. His opponent is expected to be Ukrainian Volodymyr Hordiienko. The 20-year-old Ukrainian "master of leather gloves" has fought 9 fights in his career, winning 8 of them with one defeated. He knocked out 3 of his opponents. 21-year-old Uzbekistan's Mahammatjonov went to the ring 10 times and won all of them. He knocked out his opponents 7 times. It should be noted that boxers under the age of 24 with a good record can compete for this title among the youth. It will soon be clear when and where the battle will take place.
Found mistake? Select it and send us (Ctrl + Enter)