Uzbek boxers are targeted by Australian promoter ...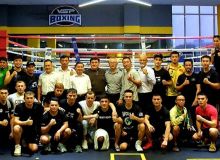 The head of Victory 8 boxing is seriously interested in Uzbek boxers.
Uzbek professional boxers Olimjon Nazarov, Abdurasul Ismoilov and Ravshanbek Shermatov, who have a promotional contract with South Korean promotion company Cocky Buffalo, are training in Vietnam under the guidance of coach Bobur Najmiddinov. We reported on sparring fights between Cocky Buffalo fighters, including Uzbek boxers and Victory 8 boxing boxers. These sparring fights took place at the VSP boxing GYM arena, which is the base of the Australian promotion company in Ho Chi Minh City.
Coach Bobur Najmiddinov told Sports.uz that the fights were great and the Australians offered to establish a serious partnership. In particular, the head and founder of the promotional company Victory 8 boxing Robert Hill said that he intends to work with talented Uzbeks who are about to start their careers and have already taken their first steps in professional boxing. He also said that a number of our young boxers had been recommended to him and that there might be news about it soon. Follow the course of events with us.
Found mistake? Select it and send us (Ctrl + Enter)