Uzbek boxers claim six medals at the International Youth Boxing Tournament in Russia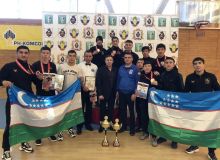 Uzbek boxers participated in International Youth Boxing Tournament dedicated to the memory of internationalist warriors
Over 100 young boxers from 20 countries took part in the 16th edition of the tournament from January 26 to January 31, 2020.
Uzbekistan's Avazjon Yuldashev beat all his rivals to claim a gold medal, while his compatriot Nurislom Ismoilov finished the competition with a silver medal.
Firdavs Jumyozov, Shohjahon Abdullaev, Amirshokh Samadov and Jahongir Zokirov were awarded with bronze medals.