Uzbek boxers dominated ASBC Asian Schoolboys Boxing Championships finals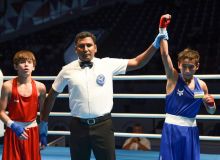 The 14 finals were held in the fifth competition day at the ASBC Asian Confederation Schoolboys Boxing Championships in Kuwait City.
Uzbekistan dominated the last day of boxing in Kuwait City where their boxers, including future stars Umidillo Abdurasulov and Dalerjon Bozorov, achieved 10 out of the 14 titles.
India and Kazakhstan both claimed two gold medals in the competition where finally 15 nations earned at least one bronze.
Altogether 150 boxers from 21 nations competed for the medals and titles in Kuwait City's Shaikh Al-Abdullah Sports Complex.
The ASBC Asian Schoolboys Confederation Boxing Championships is a new milestone in our continent and it was held at the first time. Boxers who were born in 2005 and in 2006 were eligible to compete in the event for the 14 available titles.
Uzbekistan's Gold Medallists
-35 kg: Humoyunmirzo Abdurasulov
-37 kg: Hojiakbar Mahmudov
-40 kg: Farrux To'laganov
-43 kg: Umidillo Abdurasulov
-46 kg: Boburbek Bobojonov
-49 kg: Lazizbek To'lqinov
-52 kg: Dalerjon Bozorov
-55 kg: Jahongir Narziev
-61 kg: Mirzob Nekboev
-64 kg: Shavkatjon Boltaev
Uzbekistan's Silver Medallists
-58 kg: Abdulaziz Abdurahmonov
-67 kg: Shahboz Hamidullaev
Uzbekistan's Bronze Medallists
-70 kg: Aynazar Kenesbaev
+70 kg: Husanboy Rihsiboev