Uzbek boxers leave for Olympic Qualifying Tournament takes place in Jordan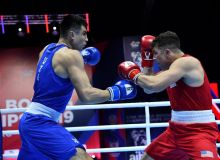 The king of the super heavyweight World champion Bakhodir Jalolov will lead Uzbek boxers at the Olympic Qualifying Tournament will take place in Amman, Jordan.
The first qualifying event for boxing at Tokyo 2020 was cancelled due to concerns surrounding the coronavirus outbreak in Wuhan and rescheduled with the IOC Boxing Task Force (BTF) pencilling in new dates of 3-11 March in Jordan capital.
Uzbekistan's new Welterweight World Champion Shakhram Giyasov was dismissed as Bobousmon Boturov will square off for an Olympic quota place in Amman.
The list of boxers included 2016 Rio Olympics medallists Shahobiddin Zoirov, Bektemir Melikuzievev, World champions Bakhodir Jalolov, Mirazizbek Mirzakhalilov, Asian champion Elnur Abduraimov, and Sanjar Tursunov, Dilshodbek Ruzmetov, Bobousmon Baturov.
Shahobiddin Zoirov
Abrorjon Qodirov
Fozil Abdumurodov
Mirazizbek Mirzahalilov
Oybek Jurayev
Shunkor Abdurasulov
Elnur Abduraimov
Aliyor Noraliyev
Boburmirzo Tolibov
Bobousmon Baturov
Bilolbek Mirzarahimov
Fanat Kahramonov
Bektemir Melikuzievev
Navo Tamozov
Saidjamshid Jaffarov
Dilshod Roʻzmetov
Kozim Mardonov
Shohruh Rustamov
Sanjar Tursunov
Madiyar Saidrahimov
Jamshid Abdullayev
Bahodir Jalolov
Lazizbek Mullajonov
Jamshid Khudoyberganov