Uzbek chess players finish second at the WYCO 2019 in Turkey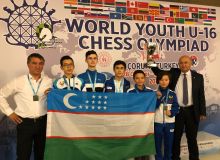 Uzbekistan's chess players Abdusattorov Nodirbek, Sindarov Javohir, Kasimov Ali, Madaminov Muhiddin and Omonova Umida finished second with 15 points at the World Youth Under-16 Chess Olympiad (WYCO 2019) in Corum, Turkey.
Turkish Chess Fedearation hosted WYCO 2019 took place in Corum, Turkey with 48 teams and 235 players from 6 regions and 38 countries between 29 November – 5 November.
Azerbaijan took the first place with 16 points, while Belarus became third with 14 points, Kazakhstan was the fourth and Israel took fifth places.