Uzbek Greco-Roman wrestler earn 5 medals at Asian Youth Wrestling Championship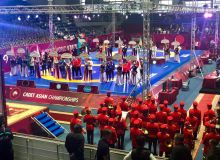 Uzbekistan's wrestlers are showing great results at the Asian Youth Wrestling Championship in Kazakhstan kicked off on Thursday.
In Greco-Roman wrestling events, Uzbek athletes claimed five medals as Amir Sultonov was awarded a gold medal in men's 60 kg. Abror Ataboev defeated all his rivals before he lost the final and earned a silver medal.
Uzbekistan's Kuvonch Toshnazarov (48 kg), Jahongir Khoshimov (92 kg) and Samandar Bobonazarov (71 kg) gained bronze medals.