Uzbek judokas to resume their IJF World Judo Tour campaign in Budapest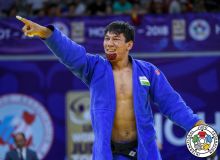 The IJF World Judo Tour has returned to Hungary's capital city of Budapest for the penultimate event before August's World Championships with just 45 days to go until judo's summer homecoming in Tokyo, Japan.
550 judokas from 82 nations will compete for medals in Hungary capital from 12 July 2019 to 14 July 2019.
Uzbekistan's 15 athletes will also start their preparation from Friday.
-60 kg: Sharofiddin Lutfillaev – Kimran Borchashvili (Austria) / Karamat Xuseynov (Azerbaijan)
-60 kg: Kemran Nurillaev – Temur Nozadze (Georgia) / Gonsalo Mansino (Portugal)
-66 kg: Sardor Nurillaev – Tal Almog (Argentine) / Ibrohim Aliev (Azerbaijan)
-66 kg: Shahram Ahadov – Manuelb Shibel (Germany)
-73 Hikmatilloh Turaev – Eduardo Arauxo (Mexico) / Sulaymon Hamad (Saudi Arabia)
-73 kg: G'iyosjon Boboev – Ahmad Alikaj (ROT)
-81 kg: Sharofiddin Boltaboev – Mazen Nanae (ROT)
-81 kg: Kamoliddin Rasulov – Yaromir Musil (Czech Republic)
-90 kg: Davlat Bobonov – Kedyau Nxabali (Ukraine)
-90 kg: Yahyo Imomov – Beka Gviniashvili (Georgia)
-100 kg: Sherali Juraev – Anton Savitskiy (Ukraine)
-100 kg: Muhammadkarim Khurramov – Matey Xayas (Slovakia)
+100 kg: Bekmurod Oltiboev – Liam Park (Australia)
-52 kg: Diyora Keldiyorova – Chishima Maeda (Japan)
-70 kg: Gulnoza Matniyazova – Sara Rodrigez (Spain)
Found mistake? Select it and send us (Ctrl + Enter)