Uzbek kickboxer will make his professional boxing debut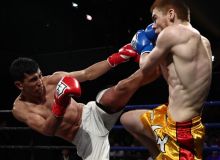 The fight is possible to be in Moscow.
Master of kickboxing Uzbek Sher Mamazulunov, known as "Alligator", will soon take part in two fights. Interestingly, he also makes his debut fight in professional boxing.
"After a long break, we are back in the ring. More precisely, I will fight in a new promotional tournament in the direction of K-1 in Moscow on August 4. On September 12, I am expected to make my debut again at a professional boxing night in the capital of Russian. It will also be clarified soon, "Mamazulunov said.
Found mistake? Select it and send us (Ctrl + Enter)