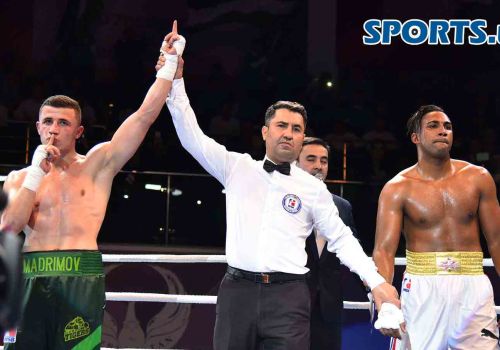 Uzbek Tigers do revenge against Cuba Domadores
The fourth weekend of the World Series of Boxing delivered sensational successes for the Central Asian teams. The Uzbek Tigers did revenge against two-time WSB Team Champion Cuba Domadores in Tashkent with 4-1 success.
The Uzbek Tigers reached the Semi-finals in Season VI as a newcomer franchise and their boxers were there in the Quarter-final stage of the Play-off in 2017 and only Cuba Domadores was able to stop them. The Cubans defeated the Uzbek Tigers 5-0 in Havana on Week 2 but the Central Asians have done a perfect job on their re-match in Tashkent winning their top challenge 4-1.
The Uzbek Tigers defeated Cuba Domadores 3-2 in Samarkand one year ago but their 4-1 success over the stars shows the development of their boxers. Rio 2016 Olympic Champion and two-time ASBC Asian Champion Hasanboy Dusmatov did a revenge to Cuba's AIBA World Champion Joahnys Oscar Argilagos following his defeat at the Hamburg 2017 AIBA World Boxing Championships.
Another Rio 2016 Olympic Games winner Shakhobiddin Zoirov returned to the squad and defeated Cuba's two-time Olympic Champion Robeisy Ramirez in the battle of the stars. ASBC Asian Champion Israil Madrimov triumphed over Cuba's Arlen Lopez at the middleweight (75kg) once again before 19-year-old Sanjar Tursunov did a sensation at the heavyweight (91kg) against Erislandy Savon. Ikboljon Kholdarov was the lone Uzbek who lost his contest in Tashkent where Cuba Domadores' Andy Cruz was able to share his power better than his rival.
Final Results
Uzbek Tigers vs. Cuba Domadores 4-1
49kg: Hasanboy Dusmatov UZB – Joahnys Oscar Argilagos CUB 3-0
56kg: Shakhobiddin Zoirov UZB – Robeisy Ramirez CUB 3-0
64kg: Ikboljon Kholdarov UZB – Andy Cruz CUB 1-2
75kg: Israil Madrimov UZB – Arlen Lopez CUB 3-0
91kg: Sanjar Tursunov UZB – Erislandy Savon CUB 3-0
Follow SPORTS.uz on Instagram