Uzbekistan's Makhmud Gaipov to square off against Russian Zurab Chaniev in Yekaterinburg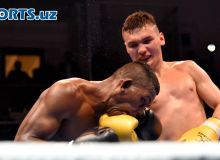 Uzbekistan's Makhmud Gaipov will square off in the third fight in his pro career at the RCC Boxing Academy in Yekaterinburg, Russia.
The 22-year-old will face Russian Zurab Chaniev in a scheduled six-round bout on March 23, 2019.
The Uzbek welterweight Makhmud Gaipov made a strong pro debut, stopping Tanzanian import Iddi Mkwera by TKO and Armenian Artush Hovhannisyan by unanimous decision.